I stumbled across
this page
and found the geekiest wedding rings ever! Haha. Take note, they are already sold out as of March 2008!
The description of the rings on the page is:
A wedding set for the unconventional! The female ring has a choice of four opaque colors: turquoise, white, orange or black. The male ring stands tall and dramatically transparent. Switch-up the sexes! Order two of the same! The world is your technological oyster.

The price listed is for each ring.
Check them out (Click the thumbnail to enlarge the image):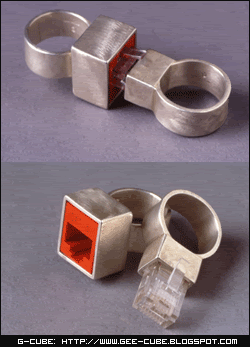 Cat 5 Compliant Ethernet plug wedding rings. How Geeky can that be?