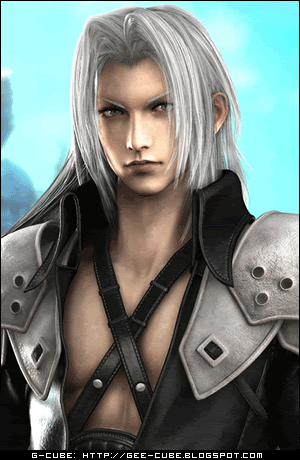 The hottest guy in the Final Fantasy 7 (FF7) series is
SEPHIROTH
. Please, don't contradict me on this. You know I'm telling the truth.
*wink*
Sephiroth
(

セフィロス
) is the recurring villain in Square/Square Enix's popular RPG series, Final Fantasy VII. He is characterized as a tall man with long silver hair (and dreamy sparkling eyes). Here are some basic information about him:
His character was also designed by Tetsuya Nomura
In FF7, he attempts to destroy the world by summoning a meteor to fall on the planet. He is the Final Boss of the game
He also appears in other games such as the

Kingdom Hearts

series, Dirge of Cerberus: Final Fantasy VII, Ehrgeiz, Crisis Core: Final Fantasy VII and in the animated movie Final Fantasy VII: Advent children
He carries an extremely long sword called the Masamune
Exact birthday and birthplace are unknown
He is also known as the "One-Winged Angel" due to his "fallen angel" connotation, a title given to those who have fallen from grace.
For more information about Sephiroth, please visit
this site
.
So who says good guys always rule? With Sephiroth, I'd date a bad guy anytime.